The Everett Waterfront, a dynamic neighborhood located along the picturesque shores of Port Gardner Bay, offers residents a unique blend of urban living, recreational opportunities, and stunning natural beauty. Known for its bustling marina, a variety of dining and shopping options, waterfront parks, and the Everett Naval Station, the Everett Waterfront is a popular choice for families, young professionals, and retirees seeking a coastal lifestyle with easy access to city amenities. In this blog entry, we will explore the many aspects of the Everett Waterfront, from its recreational offerings and community life to its dynamic real estate market in 2023.
Community Life
Everett Waterfront is known for its vibrant community life, with residents and visitors enjoying a variety of events and initiatives throughout the year. The area is home to several waterfront parks, including the popular Boxcar Park, which offers stunning views of Port Gardner Bay, picnic areas, and open spaces for various activities. The Waterfront also features a number of community organizations and clubs, fostering a sense of belonging and camaraderie among residents.
Recreation and Amenities
Recreational opportunities abound in the Everett Waterfront, with numerous parks, trails, and water-based activities available for residents to enjoy. The expansive waterfront marina offers boating and fishing opportunities, as well as seasonal events such as the annual Marina Fest. The neighborhood is also home to the Everett Naval Station, which serves as an important military facility and adds to the area's vibrant community life.
In terms of amenities, North Everett's close proximity to Downtown allows residents to enjoy a wide range of dining, shopping, and entertainment options. Additionally, the neighborhood is well-connected to public transportation, making it easy to explore the surrounding areas and commute to work or school.

Everett Waterfront's prime location provides residents with easy access to a wide range of shopping, dining, and entertainment options. The bustling waterfront district offers a variety of retail stores, restaurants, and cafes that cater to diverse tastes and preferences. The waterfront revitalization project has brought luxury condos, new dining venues, and a farmers' market, enhancing the area's appeal and contributing to its continued growth.
Real Estate Overview
The real estate market in the Everett Waterfront is characterized by a mix of luxury condos, townhomes, and apartments, offering a variety of housing options to suit different preferences and budgets. The neighborhood's coastal atmosphere, combined with its strong community feel and access to amenities, make it a desirable choice for homebuyers seeking a vibrant and connected environment.
Real Estate Facts and Data for 2023:
Number of Homes Purchased: In 2023, the Everett Waterfront's real estate market has seen a steady level of activity, with around 80 homes being purchased.

Average Days on Market: Homes in the Everett Waterfront typically stay on the market for an average of 20-30 days, reflecting the neighborhood's desirability and demand.

Inventory: The inventory of available homes in the Everett Waterfront in 2023 is moderately tight, with approximately 15-25 homes on the market at any given time, offering a range of housing types and styles to cater to different needs and preferences.

Median Home Value: In 2023, the Everett Waterfront's median home value is around $650,000, which is higher than the city's average, making it a more upscale option for many homebuyers.

Appreciation Rates: The neighborhood has experienced an appreciation rate of approximately 6% in 2023, with home values rising as the area continues to attract new residents and investment.
© 2023 Northwest Multiple Listing Service. Information deemed reliable, but not guaranteed.

represents listings courtesy of NWMLS.
This site was last updated
Nov-29-2023 12:08:13 am
.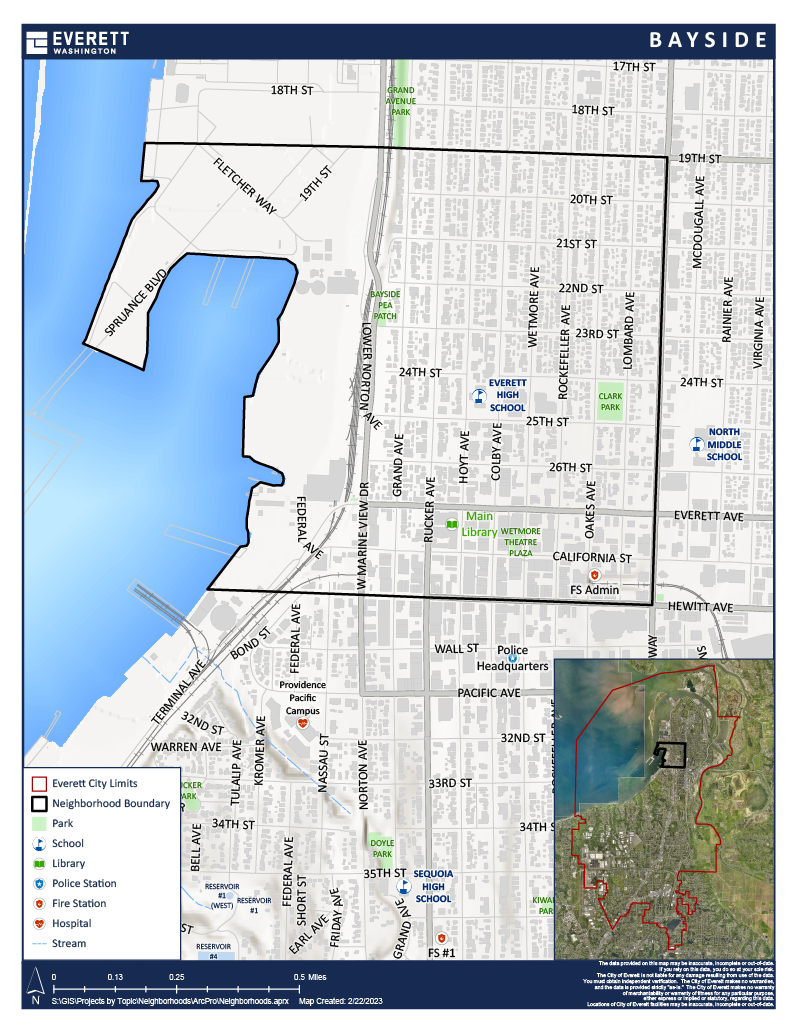 The Everett Waterfront is a lively coastal neighborhood that perfectly combines urban living, exciting recreational activities, and breathtaking natural surroundings. With its close-knit community, abundant amenities, and diverse housing options, it serves as an enticing destination for homebuyers in search of a well-rounded and engaging environment.
As an expert real estate agent in the area, I am dedicated to assisting you in navigating the Everett Waterfront real estate market and finding the ideal home that caters to your needs and preferences. Whether you're captivated by the neighborhood's strong community life, variety of amenities, or stunning waterfront location, the Everett Waterfront is an exceptional place to call home.
Contact Me
Are you considering taking the next step in your real estate journey, or simply have some questions you'd like answered? Don't hesitate to reach out to me.