The town of Snohomish is a historic and charming community located in the heart of Snohomish County, just a short drive north of Seattle. Known for its quaint downtown area, stunning natural beauty, and exceptional quality of life, the town of Snohomish is a wonderful place to call home.
Key Features
Historic Downtown
One of the key features of Snohomish is its historic and picturesque downtown area, which is home to a wide range of shops, restaurants, bars, and entertainment venues, as well as several historic landmarks and cultural institutions. Some of the top attractions in the downtown area include the Historic Walking Tour, the Antique Mall, and the Carnegie Building, which hosts a variety of community events and cultural activities throughout the year.
Outdoor Activities
In addition to its downtown area, Snohomish is also home to several beautiful parks and recreational facilities, including the scenic and historic Centennial Trail, which offers miles of walking, biking, and horseback riding trails, as well as several picnic areas and other amenities. For golf enthusiasts, the area is home to the popular Golf Course, which offers 18 holes of championship golf, as well as a driving range, practice facilities, and a clubhouse with stunning views of the surrounding landscape.
Location
A key highlight of Snohomish is its proximity to major transportation hubs and employment centers in the area. The community is just a short drive from several major highways and freeways that provide quick and convenient transportation to other cities in the region, as well as Seattle and the Eastside. Additionally, It is home to several top-rated schools and educational institutions, including the highly regarded School District.
© 2023 Northwest Multiple Listing Service. Information deemed reliable, but not guaranteed.

represents listings courtesy of NWMLS.
This site was last updated
Oct-04-2023 10:14:38 am
.
Real Estate Facts and Data for 2023: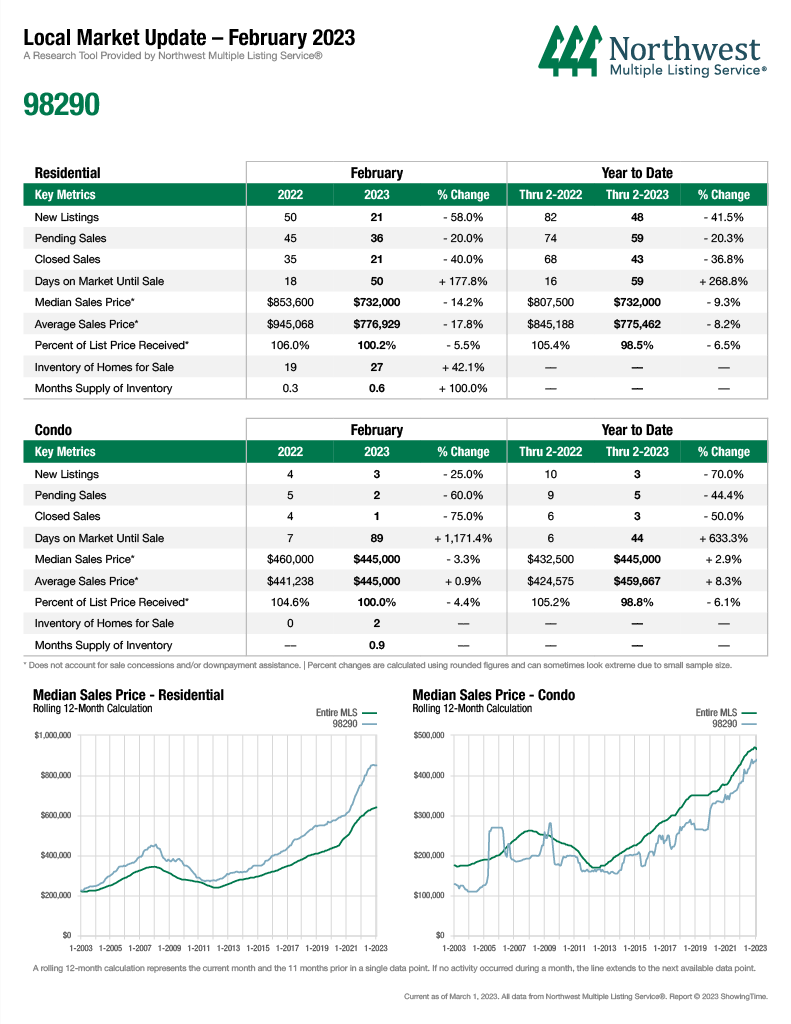 The town of Snohomish's real estate market is competitive with a relatively tight supply of homes and strong demand. The median home price is higher than the median home price for Snohomish County, reflecting the area's desirability and its proximity to major employment centers. The average price per square foot is relatively high, indicating that homes in Snohomish tend to be larger and more luxurious than those in other cities. Homes in Snohomish typically sell relatively quickly, with a median of 40 days on the market, and more than 20% of homes have a price cut, indicating that sellers may need to be flexible with their pricing in order to attract buyers.

Whether you're looking for luxury real estate in a desirable and growing community, or a charming and historic community to call home, Snohomish has something to offer everyone. Contact Karrie Kelley Real Estate today to learn more about the homes and properties available in Snohomish, and to explore your options for buying or investing in this beautiful and thriving community.


Contact Me
Are you considering taking the next step in your real estate journey, or simply have some questions you'd like answered? Don't hesitate to reach out to me.